Cavity wall tie corrosion is a major problem with many properties in the UK now

The problem has come about by the use galvanized fishtail or in later

years the use of butterfly twist ties. If left undetected wall tie corrosion

can seriously damage the property and in some cases make the building unsafe

Identifing Cavity Wall Tie Failure

Wall Tie Replacement Schedule

There are several signs to determine if your property has wall tie failure

1/    If your property has cavity walls and the outerskin is BULGING

       then this is most likely due to the wall ties snapping due to 

       corrosion. 

2/    If the walls has HORIZONTAL cracks in the mortar joints, this is

       most likely wall tie corrosion.

.

A free survey from MASTEX will establish the problem

and the need for the type of remedial work required.

The surveyor will locate at random a selection of ties using

a metal detector .and an endoscope to determine the condition of the ties.

Check and identify all cracks and damage to the walls

Offer a free quotation for the best and most effective treatment

Our specialist teams have the experience to eliminate the

problem of wall tie failure

Establishing the location of all wall ties in the area to be treated.

Isolating existing corroded ties

Drilling  holes for access to install new stainless ties

Installing new ties as per contract and specification.

Making good / pointing substrate to match existing surface

CASE STUDY :  RESIDENTUAL PROPERTY  SEATON DEVON

This property believe it or not was only 3 years old when we was approached by the owner to deal with the

external rendering. The problem was that the rendering was turning into powder. Our client had called on the

NHBC guarantee to put the problem but all they done was a cosmetic fix and nether bothered to look at other

aspects of the problem.....FINE HORIZONTAL CRACKS going around the house at about 2 metres high

a classic example of WALL TIE EROSION............but on a 3 year old house ?  on closer examination

with an endoscope the problem was solved........there was no wall ties at all ! at this level.

The schedule for the works was to put in a level of chemical wall ties, replace some blown render, apply 

a liquid resin coat to harden the render, and finish with a high performance spray applied coating to all areas.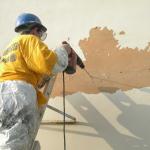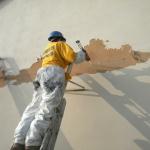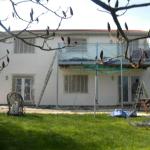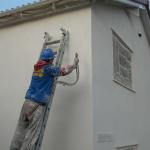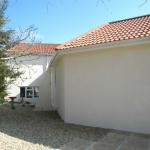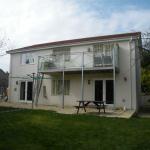 COPYRIGHT  MASTEX  2000-2022

Click on photo to enlarge

CASE STUDY 2 :  RESIDENTUAL PROPERTY   ISLE OF WHITE

This property was built during the 1920s of cavity wall construction high up on the cliffs on the

ISLE OF WHITE near Sandown, 

Backing onto the English Channel the owner was constantly painting it to keep it in good order.

During our survey it was identified that there was extensive wall tie corrosion and would form part of our works in the renovation and insulation of external walls

The works consisted of external render repairs, cavity insulation, wall-tie replacement, external

block replacement to one corner, and finally preparation and sprayed textured coating to all 

exterior walls.

Please click on pictures to enlarge



As part of our remedial work with exterior walls our experience with cavity wall tie replacement is second to none, having carried out many contracts for commercial, industrial and residential clients, in all parts of the UK.

With our specialist systems we can offer our clients a complete package from the structural aspects through to the future weather proofing of the substrate

We offer several CAVITY WALL TIE SYSTEMS and will advise on the most suitable system for each property

HIGH PERFORMANCE EXTERIOR WALL TREATMENTS

For further information or a free survey and quotation please call us on Telephone : 0203-693-3797 or use the contact form below.

HIGH PERFORMANCE BUILDING SYSTEMS

Kemp House, 152-169 City Road, London EC1V 2NX

Telephone : 0203-693-3797.  Email : mastex@mail.com

Web site : www.thermastex.com